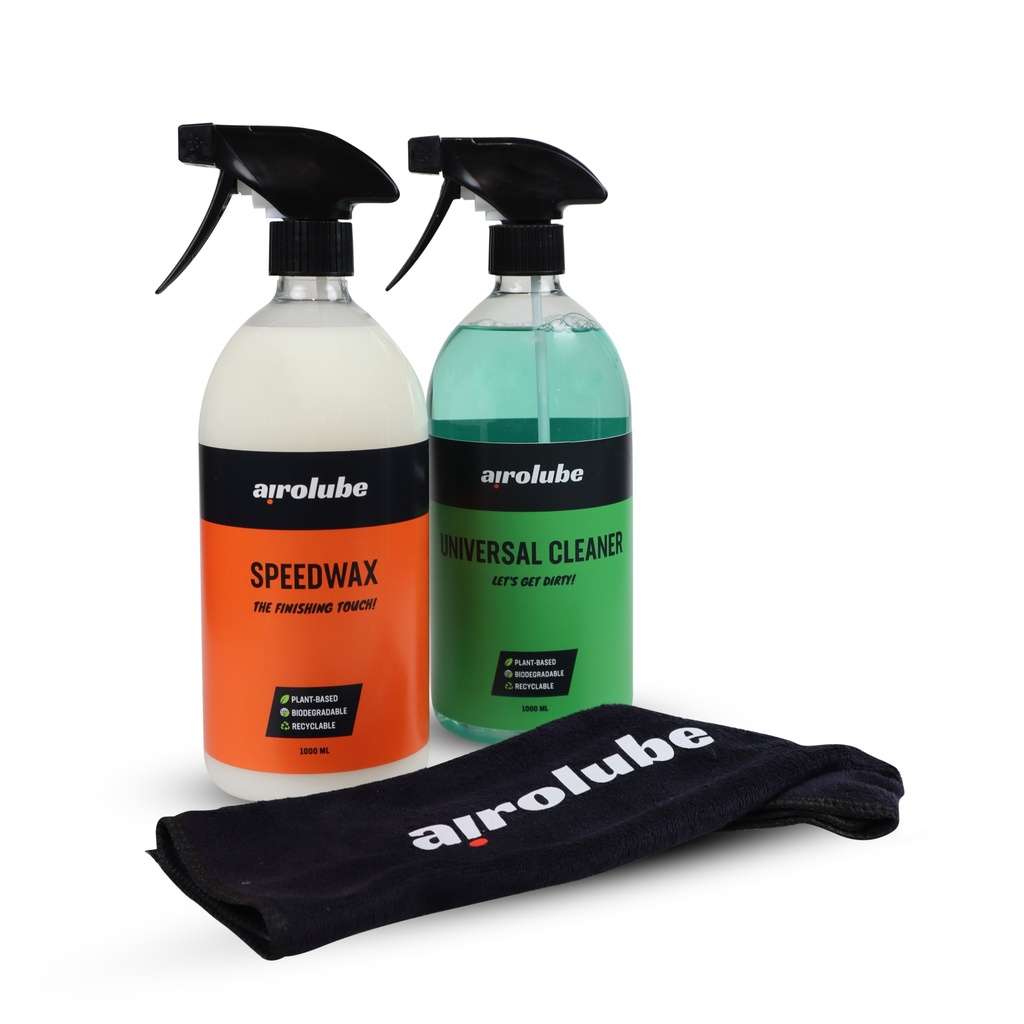 Easy Cleaners
---
---
1000ml Airolube Speedwax, 1000ml Airolube Universal Cleaner + Gratis Airolube Microvezel Reinigingsdoek.
---
Free shipping on ordersabove € 45.00 and within the Netherlands.Ordered before 17:00, receive next working day. Prices mentioned are incl. VAT
THE EASIEST WAY!
Het schoonmaken van je auto of fiets moet resultaat hebben. Maar het liefst met zo min mogelijk tijdsinspanning. Daarvoor zijn de reinigers en beschermers van Airolube ontwikkeld. Reinigen met Airolube Universal Cleaner en afwerken met de Airolube Speedwax. 

Airolube Universal Cleaner is een Plant-based, biologisch afbreekbare formule geschikt voor het reinigen van metalen, plastics en lakken. Zo is de Universal Cleaner te gebruiken als fietsreiniger en autoreiniger.
Airolube Speedwax is de plantaardige vervanger van de siliconenspray. Deze lakafwerker zorgt voor een water en vuilafstotende coating bovenop de laklaag. Hierdoor krijgt vuil geen kans zich goed te hechten aan het frame of de carrosserie. Even afspoelen en het vuil is verdwenen. De Speedwax laat onzichtbare laag achter waardoor de wax-emulsie goed te gebruiken is op matte en glanzende lakken.

De Easy Cleaners worden afgemaakt met een handig en vriendelijk zacht microvezel Airolube doek t.w.v. € 1,95. Deze ontvang je gratis bij de aankoop van Speedwax en Universal Cleaner in het Easy Cleaners pakket.