LET'S BEAT THE BUGS!
Airolube Insect Remover is een plant-based formule voor het verwijderen van insectenresten van de lak of glas.
De natuurlijke formule trekt in de insectenresten en weekt deze los van het oppervlak. De Insect Remover is vriendelijk voor behandelde en onbehandelde laklagen.
Insect Remover is net als andere producten van Airolube biologisch afbreekbaar. Ook de verpakking is volledig recyclebaar. 

Extra productinformatie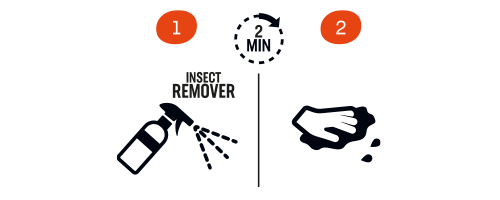 Gebruiksaanwijzing
Spray de insectenresten in met Airolube Insect Remover. Gedurende enkele minuten laten intrekken. Poets vervolgens de resten af met een vochtige doek of spons. Bij ingedroogde insectenresten de formule langer laten intrekken en daar waar nodig de behandeling herhalen.

Specifications
| | |
| --- | --- |
| Application | Cleaning |
| Content | 500ml |